View The Annular Solar Eclipse From The Iconic Alamo!
October 6, 2023
CONTACT
Emily Baucum, Alamo Trust, Inc.
ebaucum@thealamo.org
Mobile (210) 669-0282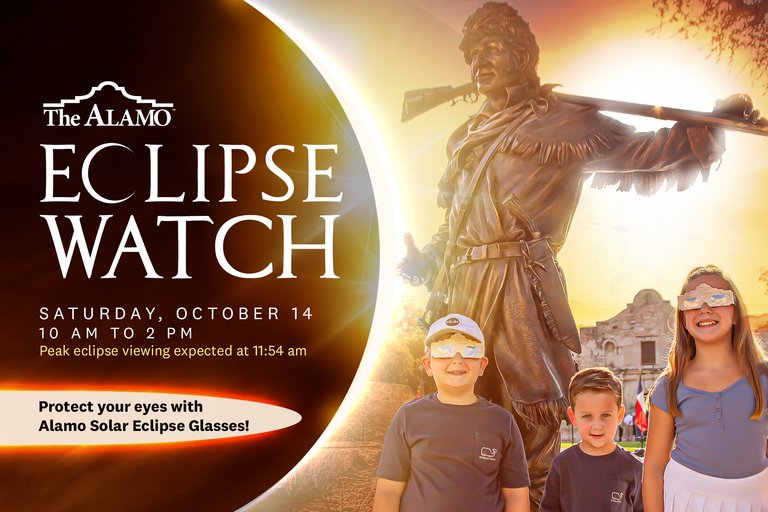 Take in the awe-inspiring annular solar eclipse while standing in the footsteps of history on Alamo Plaza!

The Alamo will host Eclipse Watch on Saturday, October 14, when San Antonio will be in the direct viewing path for the annular solar eclipse. According to NASA, the peak annularity window will take place from 11:52 a.m. to 11:56 a.m.

An annular eclipse occurs when the Moon passes between the Sun and Earth while positioned at or near its farthest point from Earth. As a result, the Moon appears as a dark disk on top of a larger, bright disk, creating what looks like a ring around the Moon.

The Alamo encourages visitors to protect their eyes with our commemorative solar eclipse glasses that feature the iconic parapet roofline of the Alamo! These glasses meet safety requirements and are sold for $5 each at the Alamo Welcome Center.

While visitors await the peak eclipse window, they're invited to take part in Dig In!, a mock excavation in the Alamo Gardens to mark October's Texas Archaeology Month. Join Alamo Archaeologist Dr. Tiffany Lindley to learn how to excavate artifacts, analyze soil, and use tools of the trade. This family-friendly event will take place from 9 a.m. to 12 p.m.

There is no better place to enjoy this memorable morning than where we Remember The Alamo!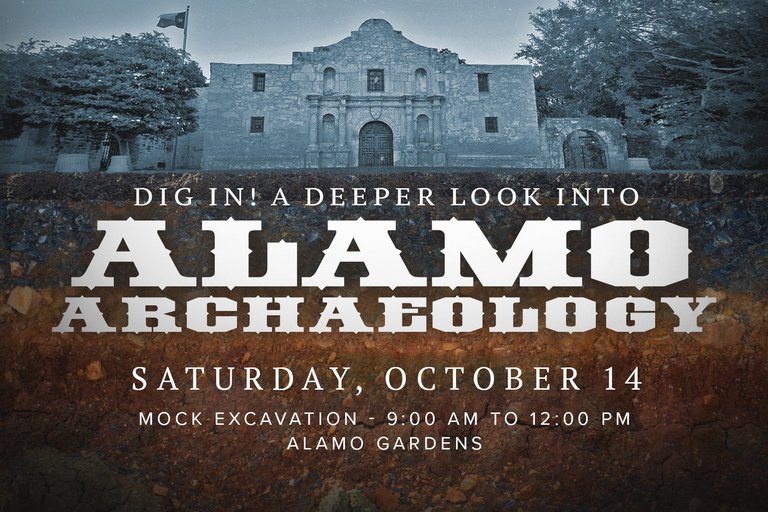 What: Eclipse Watch and Dig In!
Who: Public
When: Saturday, October 14, 2023, 9 a.m. to 2 p.m.
Where: The Alamo
300 Alamo Plaza, San Antonio, TX 78205
About Alamo Trust, Inc. | Alamo Trust, Inc. (ATI) is a 501c3 nonprofit organization that oversees the daily operations at the Alamo and implementation of the Alamo Plan. Located in the heart of San Antonio, the Alamo stands as a Shrine to Texas Liberty. The Alamo tells the story of Texas Independence as part of its rich and diverse 300-year history to over 1.6 million visitors every year and is the #1 most visited destination in the State of Texas. In 1960, the Alamo was designated a United States National Historic Landmark, and in 2015, it became part of the Lone Star State's only UNESCO World Heritage Site. Witness living history, experience authentic artifacts, and explore an iconic landmark that shaped the country. Visit theAlamo.org.