The Alamo Mission Gate and Lunette Archaeology Investigation
November 22, 2022
CONTACT
Jonathan Huhn, Alamo Trust, Inc.
jhuhn@thealamo.org
Office (210) 225-1391x6064
Mobile (210) 867-7717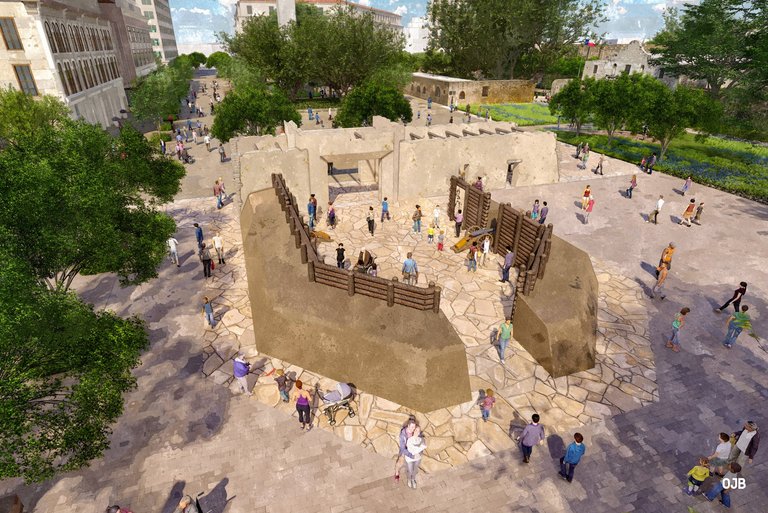 On Nov. 28, 2022, Alamo Trust, Inc. (ATI) Archaeology, in coordination with the City of San Antonio and Texas Historical Commission, will initiate a collaborative archaeological investigation located in Alamo Plaza and southwest of the historic Alamo Church. The investigation's goal is to determine if any portions of the south Mission compound wall remain and to preserve in place those remnants before the construction of the site's interpretation of the Mission Gate and Lunette. The duration of the onsite archaeology excavation work is approximately six weeks. However, visitors to the historic site will not be impacted by this important work to improve the future guest experience of the Alamo.

ATI is working with the General Land Office and the City of San Antonio to design the interpretation of the Alamo's Mission Gate and Lunette. On Oct. 5, 2022, the Historic and Design Review Commission approved ATI to build an interpretive Mission Gate and Lunette in Alamo Plaza. On Oct.18, 2022, ATI was granted provisional approval from the Texas Historical Commission for an antiquities permit to conduct archaeological investigations.

The investigation work area will be approximately 7500 square feet (0.17 acre) and will be enclosed with a 6-foot high fence for patron safety. During excavation, the City of San Antonio will coordinate with ATI on scheduled stakeholder visits inside the fence enclosure to view the archeology work as it takes place.

The Alamo website will post weekly updates during the six-week archaeology work and contains a listing of frequently asked questions and answers for what the project.

For additional questions about the Alamo's archeology investigation, please get in touch with the Alamo Trust, Inc. Director of Communications and Community Outreach, Mr. Jonathan Huhn, at 210-225-1391 ex 6064 or via email at jhuhn@thealamo.org.
About Alamo Trust, Inc. | Located in the heart of San Antonio, the Alamo stands as a Shrine to Texas Liberty. Alamo Trust, Inc., or the Alamo, tells the story of Texas Independence as part of its rich and diverse 300-year history to over 1.6 million visitors every year and is the #1 most visited destination in the State of Texas. In 1960, the Alamo was designated a United States National Historic Landmark, and in 2015, it became part of the Lone Star State's only UNESCO World Heritage Site. Witness living history, experience authentic artifacts, and explore an iconic landmark that shaped the country. Visit theAlamo.org.