Watch the Immortal 32 Arrive at The Alamo on March 1
February 25, 2022
CONTACT
Kevin Femmel, Alamo Trust, Inc.
kfemmel@thealamo.org
Office (210) 225-1391x3005
Mobile (210) 836-8616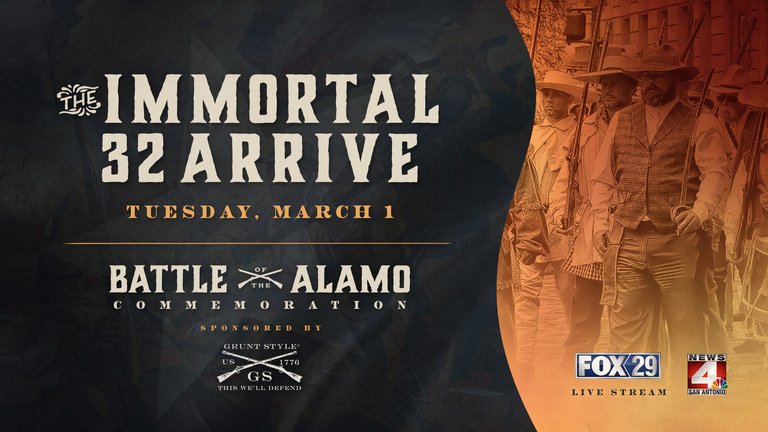 On March 1, 1836, the only reinforcements that the Alamo Defenders would receive arrive from the city of Gonzales. Known today as the "Immortal 32," watch a large-scale recreation of the arrival of these brave men at The Alamo on March 1.

With a service featuring keynote speaker Dr. Bruce Winders, the program will include a reenactment of the Immortal 32 arriving at The Alamo. The reenactors will be comprised of 32 men from the present day city of Gonzales, including descendants of the brave men who would give their lives in the Battle of The Alamo only days after arriving in San Antonio.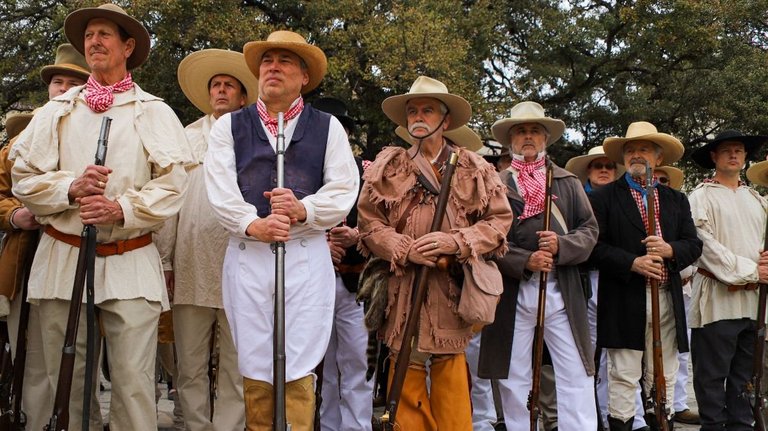 Images from past performances of The Immortal 32 Arrive.
The Immortal 32 Arrive is just one of many special events visitors can enjoy during Battle of The Alamo Commemoration from February 23 through March 6. It is the absolute best time of the year to visit The Alamo, during the anniversary of the 1836 siege. This event will be live streamed on the News 4 San Antonio and Fox San Antonio websites and app.

Commemoration is possible because of the generous support of the following sponsors: Grunt Style, Garrison Brothers, Bolner's Fiesta Products, Dykema, and the Edouard Foundation. For a full list of events, visit theAlamo.org.
What: "The Immortal 32 Arrive," a special event that recreates the arrival of the brave 32 men from Gonzales that gave their lives in the Battle of The Alamo.
Who: Public and media
When: Tuesday, March 1; 11:00 a.m.
Where: The Alamo
300 Alamo Plaza, San Antonio, TX 78205
About Alamo Trust, Inc. | Located in the heart of San Antonio, the Alamo serves as a sacred memorial to all those who lived, fought and died there. Visitors pay homage to the heroes of the 1836 Battle of the Alamo, a defining moment in Texas History. Alamo Trust, Inc., or the Alamo, tells that story of Texas independence, as part of its 300-year history to over 1.6 million visitors every year. To visit the Alamo is to witness living history, experience authentic artifacts and admire an iconic landmark that shaped the country. Visit theAlamo.org.