The Alamo Hosting Screening of "Walk On The River" On June 18
June 7, 2021
CONTACT
Kevin Femmel, Alamo Trust, Inc.
kfemmel@thealamo.org
Office (210) 225-1391x3005
Mobile (210) 836-8616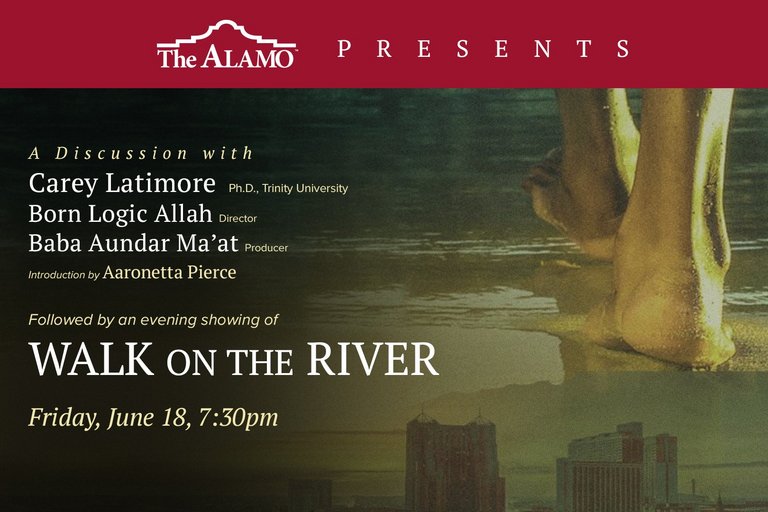 In honor of Juneteenth, the Alamo will host a movie screening of the critically-acclaimed film "Walk On The River: A Black History of the Alamo City 1865 - 1965."
A day before Juneteenth, visitors can learn about the history and contributions African-Americans have made to San Antonio. Before the screening, there will be a discussion with Trinity University's Carey Latimore, Ph.D., film director Born Logic Allah, and film producer Baba Aundar Ma'at. Alamo Citizens Advisory Committee Tri-Chair and civil rights advocate Aaronetta Pierce will provide an introduction for the event.
This is event is free to attend and will be held in the Alamo gardens. For more information, visit theAlamo.org.
What: The Alamo presents a free screening of the film "Walk On The River" with a pre-screening discussion
Who: Public
When: Friday, June 18 at 7:30 p.m.
Where: The Alamo gardens on the Alamo grounds
300 Alamo Plaza, San Antonio, TX 78205
About Alamo Trust, Inc. | Located in the heart of San Antonio, the Alamo serves as a sacred memorial to all those who lived, fought and died there. Visitors pay homage to the heroes of the 1836 Battle of the Alamo, a defining moment in Texas History. Alamo Trust, Inc., or the Alamo, tells that story of Texas independence, as part of its 300-year history to over 1.6 million visitors every year. To visit the Alamo is to witness living history, experience authentic artifacts and admire an iconic landmark that shaped the country. Visit thealamo.org.