The Alamo Hosts Screening of "Understanding Juneteenth: A History of Emancipation" on June 19
June 16, 2022
CONTACT
Jonathan Huhn, Alamo Trust, Inc.
jhuhn@thealamo.org
Office (210) 225-1391x6064
Mobile (210) 867-7717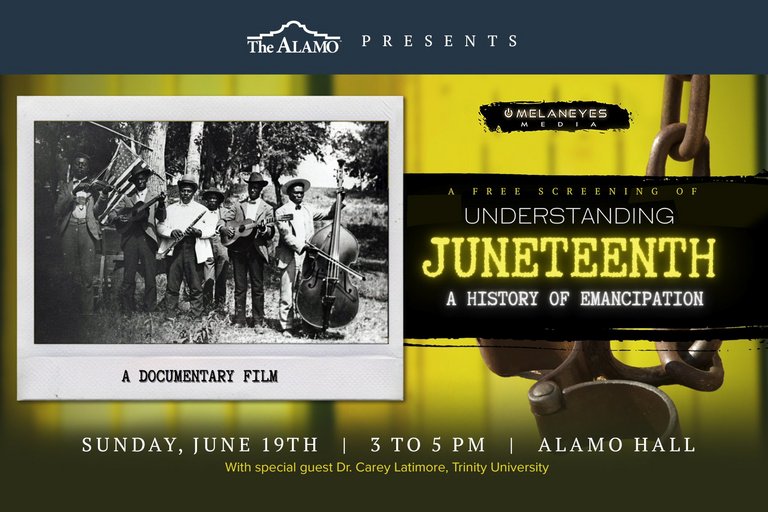 In honor of Juneteenth, the Alamo will host a free screening of Understanding Juneteenth: A History of Emancipation on Sunday, June 19.
Understanding Juneteenth is a documentary film that looks to educate viewers on the history of Emancipation Day as a holiday and how it has been recognized throughout the years here in America. Juneteenth is the oldest known celebration honoring the end of slavery in the United States. On June 19, 1865, Union General Gordon Granger led thousands of federal troops to Galveston, TX, to announce that the Civil War had ended and slaves had been freed.

Before the screening, attendees will hear remarks from Dr. Carey Latimore, associate professor of history and director of the African American studies program at Trinity University, who is featured in the documentary.
"I am once again honored to have the opportunity to join my friends at the Alamo for this presentation of Understanding Juneteenth: A History of Emancipation," said Dr. Carey Latimore of Trinity University. "I believe this documentary done right here in the great city of San Antonio will be inspirational and thought-provoking for everyone who attends. As we celebrate Juneteenth, this documentary speaks to the true meaning of that day when General Gordon Granger issued the Juneteenth Order as well as its lasting legacy today".
The event will begin at 3 p.m. in Alamo Hall with quick remarks from Dr. Latimore. Following his remarks, the roughly hour-long film will be shown. This event is free and open to the public; no registration is required.
What: Understanding Juneteenth: A History Of Emancipation Screening
Who: Public
When: Sunday, June 19; 3 p.m. to 5 p.m.
Where: Alamo Hall (located between Alamo Church and The Menger Hotel)
300 Alamo Plaza, San Antonio, TX 78205
About Alamo Trust, Inc. | Located in the heart of San Antonio, the Alamo serves as a sacred memorial to all those who lived, fought and died there. Visitors pay homage to the heroes of the 1836 Battle of the Alamo, a defining moment in Texas History. Alamo Trust, Inc., or the Alamo, tells that story of Texas independence, as part of its 300-year history to over 1.6 million visitors every year. To visit the Alamo is to witness living history, experience authentic artifacts and admire an iconic landmark that shaped the country. Visit theAlamo.org.