The Best Time to Visit The Alamo is Feb. 23 - March 6, During Battle of The Alamo Commemoration
February 11, 2022
Contact: Kevin Femmel
Alamo Trust, Inc.
kfemmel@thealamo.org
Office (210) 225-1391x3005
Mobile (210) 836-8616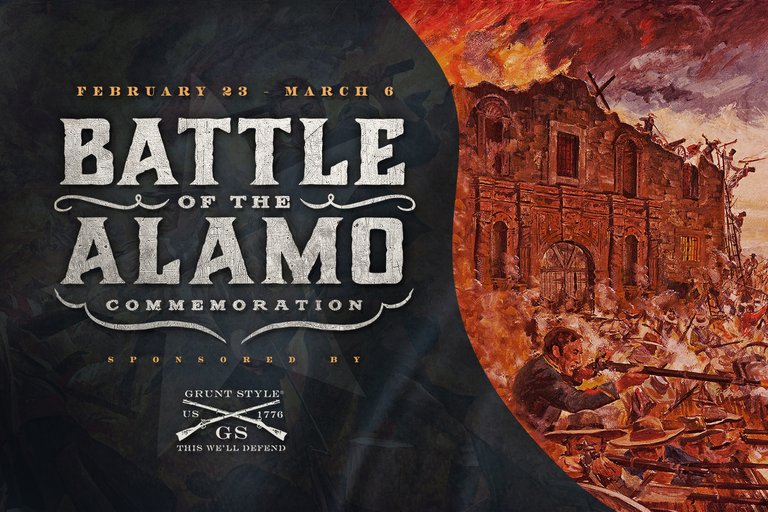 From February 23 through March 6, Battle of the Alamo Commemoration will honor the anniversary of the 1836 siege and Battle of the Alamo with 12 days of special tours and events at the historic Alamo site.

Generously sponsored by Grunt Style, these events bring the Alamo's unique story to life, inspire visitors, and honor all those who lived, fought, and died for Texas' independence. Visitors will learn about the Texas Revolution and most of all, why we remember the Alamo 186 years later.

This is by far the best time to visit and experience the Shrine of Texas Liberty. The public and press are encouraged to attend the events listed below, and to check the site daily to see even more special programming.

If you would like to take your passion for Texas history to the next level, you can apply to become a volunteer for Battle of the Alamo Commemoration on our website.
Tuesday, March 1
11 a.m.
The Immortal 32 Arrive | Free
We honor the sacrifice of the 32 men from Gonzales, the only reinforcements the Alamo Defenders would receive, with one-of-a-kind event. Special guests will include the Mayor of Gonzales, the Gonzales Children's Choir, and descendants of the brave 32 men who came to help the Alamo Defenders in 1836.
Tuesday, March 2
9 a.m. - 4 p.m.
Texas Independence Day | Free
Come celebrate Texas Independence, declared on March 2, 1836, at The Alamo with live music, living history demonstrations, and a special ceremony by the Alamo Mission Chapter of the Daughters of the Republic of Texas.
Saturday, March 5
6 p.m. - 9 p.m.
An Evening with Heroes | Tickets required
What would it have been like to be present at the Alamo during the siege leading up to the battle? Join the Alamo for a special, after-hours theater where you'll witness the events and conversations that took place the evening before the final attack, on the evening before the 186th anniversary of the Battle of the Alamo.
About Alamo Trust, Inc. | Located in the heart of San Antonio, the Alamo serves as a sacred memorial to all those who lived, fought and died there. Visitors pay homage to the heroes of the 1836 Battle of the Alamo, a defining moment in Texas History. Alamo Trust, Inc., or the Alamo, tells that story of Texas independence, as part of its 300-year history to over 1.6 million visitors every year. To visit the Alamo is to witness living history, experience authentic artifacts and admire an iconic landmark that shaped the country. Visit thealamo.org.
---