The Alamo Salutes Veterans With Military Appreciation Family Day
November 2, 2023
CONTACT
Emily Baucum, Alamo Trust, Inc.
ebaucum@thealamo.org
Mobile (210) 669-0282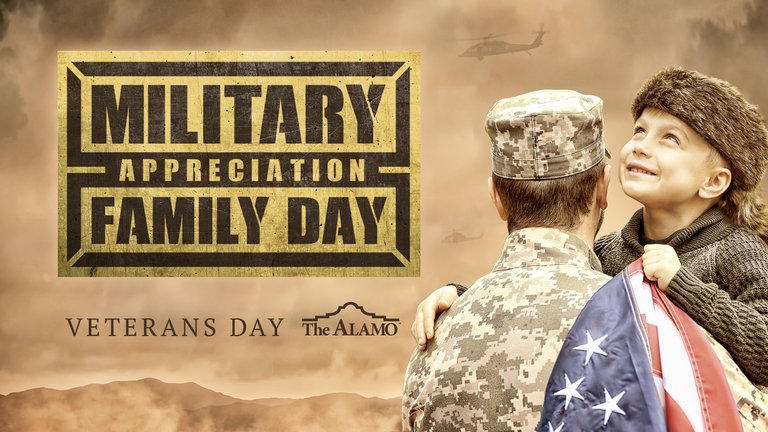 Join the Alamo as we proudly salute our service members on our third annual Military Appreciation Family Day.

Taking place on Veterans Day, Saturday, November 11, from 9 a.m. to 3 p.m., this patriotic event will celebrate, honor and recognize active duty and retired military and their families.

Alamo Plaza and the Alamo Gardens will be filled with live music, exhibits, and resource booths to give military families access to much-needed resources. This event is free and open to the public.

All active-duty service members and veterans will receive free admission to the Alamo Exhibit at the Ralston Family Collections Center, plus an additional free admission for one guest on Veteran's Day.

The Alamo shares a rich history with the United States military. The U.S. Army called the Alamo home from 1845 through 1877, using the Church and its grounds as a quartermaster depot. During that time, the Army added a roof to the Church that included the iconic arch, a shape that's now recognizable across the world.

The Army's time at the Alamo paved the way for San Antonio to become modern-day Military City USA. The Alamo is honored to continue its military partnerships, including a spotlight of each branch's distinguished contributions during the annual Fiesta Military Days at the Alamo.

We hope you'll be a part of Military Family Appreciation Day as the Alamo pays tribute to the brave service members, past and present, who fought for our freedom!
What: Military Family Appreciation Day
Who: Public
When: Saturday, November 11, 2023, 9 a.m. to 3 p.m.
Where: The Alamo
300 Alamo Plaza, San Antonio, TX 78205
About Alamo Trust, Inc. | Alamo Trust, Inc. (ATI) is a 501c3 nonprofit organization that oversees the daily operations at the Alamo and implementation of the Alamo Plan. Located in the heart of San Antonio, the Alamo stands as a Shrine to Texas Liberty. The Alamo tells the story of Texas Independence as part of its rich and diverse 300-year history to over 1.6 million visitors every year and is the #1 most visited destination in the State of Texas. In 1960, the Alamo was designated a United States National Historic Landmark, and in 2015, it became part of the Lone Star State's only UNESCO World Heritage Site. Witness living history, experience authentic artifacts, and explore an iconic landmark that shaped the country. Visit theAlamo.org.