The Alamo Launches "Stories Bigger Than Texas" Podcast!
September 14, 2023
CONTACT
Emily Baucum, Alamo Trust, Inc.
ebaucum@thealamo.org
Mobile (210) 669-0282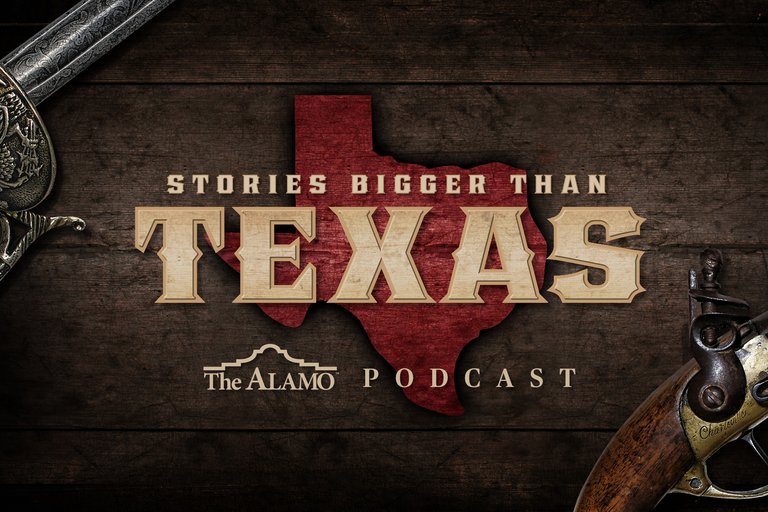 The Alamo is delighted to announce today's launch of a new podcast, "Stories Bigger Than Texas." Available wherever you listen to podcasts, it will feature in-depth conversations about the Alamo's past, present and future with guests ranging from the Alamo's experienced historians and preservationists, living historians, museum educators, descendent groups, and leaders from related historic sites.

Our first episode featuring Senior Curator, Historian and Alamo Lecturer Ernesto Rodriguez is available for you to listen right now on YouTube and embedded below for your convenience. New episodes will be released every Thursday. You can subscribe to automatically download each episode on your favorite podcast platform.

"Stories Bigger Than Texas" is hosted by Emily Baucum, an EMMY® and Associated Press-wining storyteller with more than 15 years of television news experience, most recently here in San Antonio. She currently serves as Public Relations Manager at the Alamo.

Join us in this new audio storytelling journey as we explore all the ways to Remember The Alamo!
About Alamo Trust, Inc. | Alamo Trust, Inc. (ATI) is a 501c3 nonprofit organization that oversees the daily operations at the Alamo and implementation of the Alamo Plan. Located in the heart of San Antonio, the Alamo stands as a Shrine to Texas Liberty. The Alamo tells the story of Texas Independence as part of its rich and diverse 300-year history to over 1.6 million visitors every year and is the #1 most visited destination in the State of Texas. In 1960, the Alamo was designated a United States National Historic Landmark, and in 2015, it became part of the Lone Star State's only UNESCO World Heritage Site. Witness living history, experience authentic artifacts, and explore an iconic landmark that shaped the country. Visit theAlamo.org.