The Alamo Announces Long Barrack Drainage System Project
September 29, 2023
CONTACT
Jonathan Huhn, Alamo Trust, Inc.
jhuhn@thealamo.org
Mobile (210) 867-7717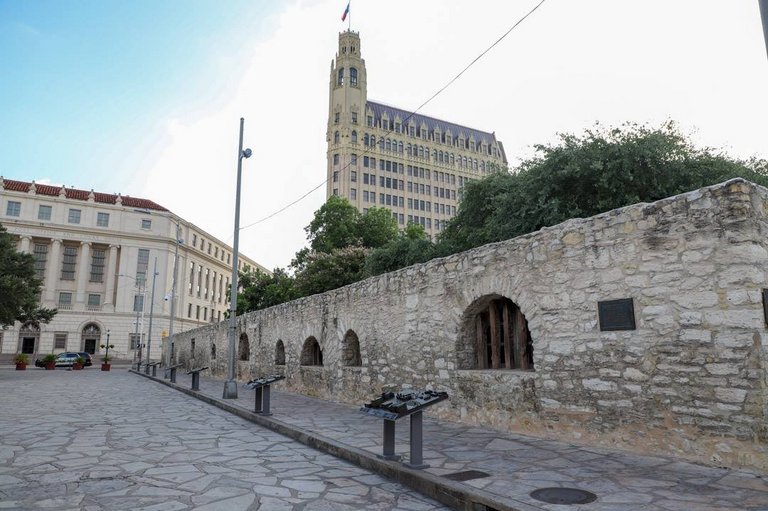 The Alamo is set to undertake the Long Barrack Emergency Drainage System Project, a vital initiative aimed at addressing water infiltration issues and safeguarding the structural integrity of the historic Long Barrack. The project will install a permanent drainage system to redirect rainwater away from the vulnerable limestone and mortar, ensuring the preservation of this iconic 300-year-old structure.

Commencing on October 2, 2023, the project is set to last for a period of 6 to 7 months. In order to ensure the safety of visitors, a specific area will be cordoned off for archaeological work. This restricted zone includes the northern portion of the Long Barrack's interior and the western section of the Cavalry Courtyard. Nevertheless, visitors will retain access to the central and southern areas of the Long Barrack. Skilled archaeologists from ATI will be responsible for excavating particular units within the Project Area.

The Alamo will disseminate information to the public through multiple communication channels on this project. Onsite signage will be prominently displayed, informing visitors about the ongoing archaeology work and safety precautions. The Alamo's website and social media channels will feature regular updates, including a dedicated weekly post on the progress of the archaeology work. Frequently Asked Questions (FAQs) about the project are readily available on our website here, offering clarification on project details and methodologies.

The Alamo remains committed to preserving its cultural heritage and architectural authenticity throughout the Long Barrack Drainage System Project. By implementing these necessary measures, the Alamo aims to protect this historic landmark for future generations.
About Alamo Trust, Inc. | Alamo Trust, Inc. (ATI) is a 501c3 nonprofit organization that oversees the daily operations at the Alamo and implementation of the Alamo Plan. Located in the heart of San Antonio, the Alamo stands as a Shrine to Texas Liberty. The Alamo tells the story of Texas Independence as part of its rich and diverse 300-year history to over 1.6 million visitors every year and is the #1 most visited destination in the State of Texas. In 1960, the Alamo was designated a United States National Historic Landmark, and in 2015, it became part of the Lone Star State's only UNESCO World Heritage Site. Witness living history, experience authentic artifacts, and explore an iconic landmark that shaped the country. Visit theAlamo.org.