Join The Alamo For "Texas Rangers Day" On September 4th
August 30, 2021
CONTACT
Kevin Femmel, Alamo Trust, Inc.
kfemmel@thealamo.org
Office (210) 225-1391x3005
Mobile (210) 836-8616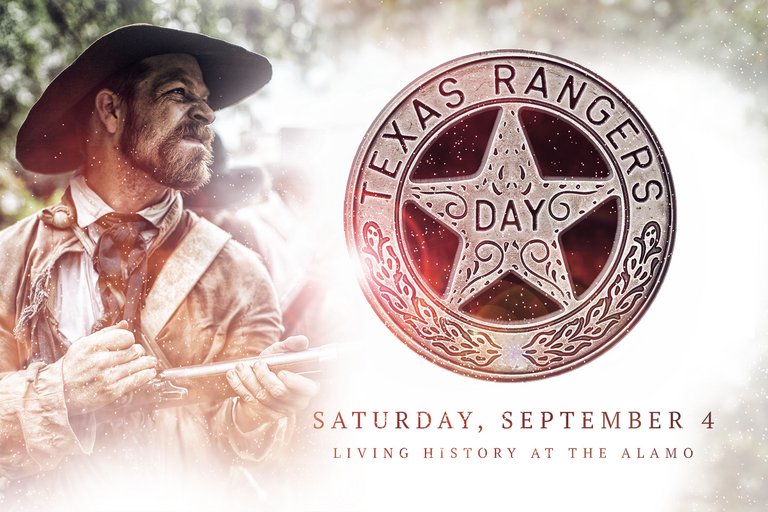 Come to the Alamo on Saturday, September 4th to learn about the long history of the iconic lawmen, the Texas Rangers!

While many people have heard of the Texas Rangers, few know of their history and the evolution of their weaponry. Visitors will witness living history demonstrations covering the Texas Rangers during the 19th century, Spanish presidials, 1890s Mexican Rurales, 1800s cooking and branding, and more. "Texas Rangers Day" will also feature representatives from the Texas Rangers Heritage Center and the Texas Ranger Hall of Fame and Museum, along with live music by the Celtaire String Band.

A free event that is appropriate for all-ages, join us for a deep dive into the history and weaponry of the Texas Rangers.
What: Texas Rangers Day at The Alamo
Who: Public
When: Saturday, September 4, 9 a.m. - 4 p.m.
Where: The Alamo
300 Alamo Plaza, San Antonio, TX 78205
About Alamo Trust, Inc. | Located in the heart of San Antonio, the Alamo serves as a sacred memorial to all those who lived, fought and died there. Visitors pay homage to the heroes of the 1836 Battle of the Alamo, a defining moment in Texas History. Alamo Trust, Inc., or the Alamo, tells that story of Texas independence, as part of its 300-year history to over 1.6 million visitors every year. To visit the Alamo is to witness living history, experience authentic artifacts and admire an iconic landmark that shaped the country. Visit theAlamo.org.