The Alamo Commemorates Juneteenth with Live Performance of 'Remembering Juneteenth'
June 9, 2023
CONTACT
Emily Baucum, Alamo Trust, Inc.
ebaucum@thealamo.org
Mobile (210) 669-0282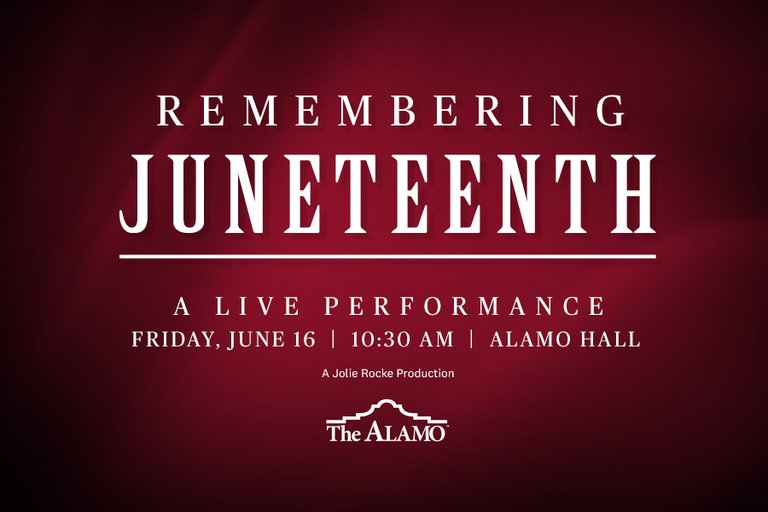 Experience the impactful presentation "Remembering Juneteenth" at The Alamo, an educational performance lasting 25 minutes that delves into the emancipation of enslaved African Americans. This powerful work brings to life the stories of formerly enslaved people from Texas and will be brought to the stage by Dr. Jolie Rocke and Mr. Manning Mpinduzi-Mott. Join us for this live performance on June 16th at 10:30 a.m. in Alamo Hall.
"Remembering Juneteenth" offers a unique perspective on the journey toward freedom by sharing first-person accounts of the emancipated in their own words. The language used in the performance is from the early 1900s, immersing audiences in the antebellum period and providing a glimpse into the lives of those who fought for their freedom. Dr. Jolie Rocke, a Texas Commission on the Arts Texas Touring Roster Artist, brings her wonderful expertise to the performance.
Don't miss this free event at Alamo Hall on June 16th at 10:30 a.m. as we commemorate this significant moment in American history.
What: Remembering Juneteenth
Who: Public
When: Friday, June 16, 2023; 10:30 a.m.
Where: The Alamo - Alamo Hall (Located south of the historic Church)
300 Alamo Plaza, San Antonio, TX 78205
About Alamo Trust, Inc. | Located in the heart of San Antonio, the Alamo stands as a Shrine to Texas Liberty. Alamo Trust, Inc., or the Alamo, tells the story of Texas Independence as part of its rich and diverse 300-year history to over 1.6 million visitors every year and is the #1 most visited destination in the State of Texas. In 1960, the Alamo was designated a United States National Historic Landmark, and in 2015, it became part of the Lone Star State's only UNESCO World Heritage Site. Witness living history, experience authentic artifacts, and explore an iconic landmark that shaped the country. Visit theAlamo.org.