The Alamo Launches "Phil Collins Collection Preview" Exhibit on Texas Independence Day
March 1, 2021
CONTACT
Kevin Femmel, Alamo Trust, Inc.
kfemmel@thealamo.org
Office (210) 225-1391x3005
Mobile (210) 836-8616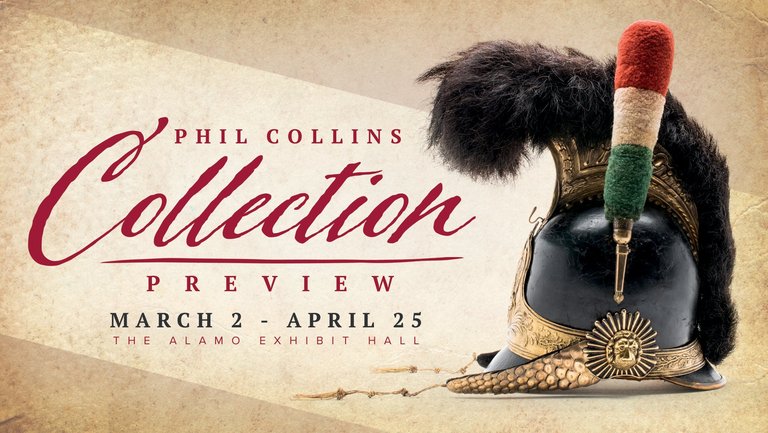 Visitors to the Alamo March 2 through April 25 will be able to glimpse a selection of priceless artifacts graciously gifted to the State of Texas by musician and historian, Phil Collins.
The "Phil Collins Collection Preview" includes a bronze cannon likely used by the Mexican Army during the Battle of the Alamo, the original battle orders from General Antonio López de Santa Anna ordering the attack on the Alamo, and more precious historic artifacts from the 1836 Battle of the Alamo carefully selected and added to the Phil Collins Collection over the years.
"We are beyond excited to finally share some of the amazing artifacts Mr. Collins so generously donated," said Kristi Miller Nichols, Director of Archaeology, Collections, and Historical Research at the Alamo. "The public has been very interested in seeing the Collins Collection. It has been an honor to care for and preserve these artifacts over the years. Personally, I cannot wait to share these items with the public that have been so inspiring to us and we hope our visitors have the same feelings."
The "Phil Collins Collection Preview" will be available in the Alamo Exhibit Hall on the Alamo grounds. Entry will be free-of-charge on March 2 for Texas Independence Day, and available to those who purchase an audio tour for $7 a person for the rest of the duration of the exhibit. Visitors can book their entry into the "Phil Collins Collection Preview" on theAlamo.org, or in-person at the Alamo Welcome Center.
This temporary exhibit will serve as a preview of what will be on display in the upcoming Alamo Exhibition Hall & Collections Building, set to open in the spring of 2022. The building will not only provide exhibit space to display the Phil Collins Collection, but will also serve as a state-of-the-art curatorial space to provide the necessary care for these priceless items. This building will serve as additional gallery space to the future Alamo Museum & Visitor Center, also in the developmental stages now.
About Alamo Trust, Inc. | Located in the heart of San Antonio, the Alamo serves as a sacred memorial to all those who lived, fought and died there. Visitors pay homage to the heroes of the 1836 Battle of the Alamo, a defining moment in Texas History. Alamo Trust, Inc., or the Alamo, tells that story of Texas independence, as part of its 300-year history to over 1.6 million visitors every year. To visit the Alamo is to witness living history, experience authentic artifacts and admire an iconic landmark that shaped the country. Visit theAlamo.org.