Alamo 1836 Battle Commemoration Commences with Opening Ceremony
February 17, 2023
CONTACT
Jonathan Huhn, Alamo Trust, Inc.
jhuhn@thealamo.org
Office (210) 225-1391x6064
Mobile (210) 867-7717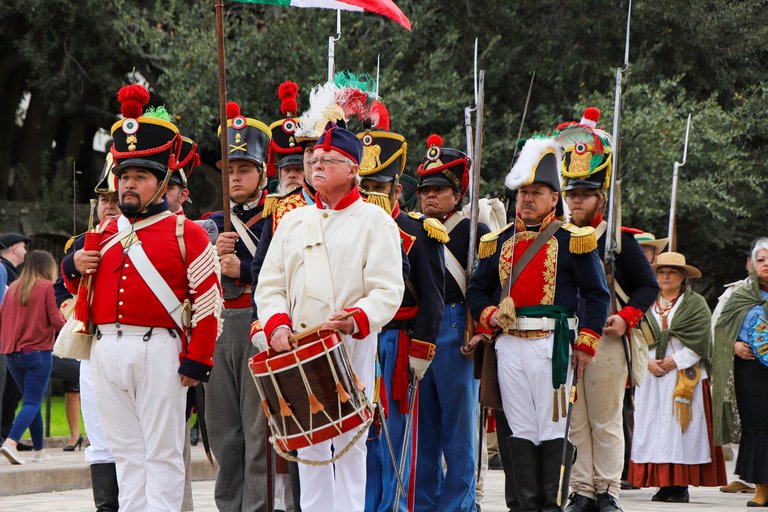 The Alamo is pleased to announce the Opening Ceremony of the Commemoration of the Battle of the Alamo, taking place on Thursday, February 23, 2023 at 10:00 a.m. in Alamo Plaza.
This gathering marks the 187th anniversary of the first day of the twelve-day siege leading up to the Battle of the Alamo on March 6, 1836. We welcome visitors to attend this special ceremony in person and discover the significance of a pivotal moment in Texas history. At the event, attendees will learn about what unfolded on February 23, 1836, and delve into the significance of commemorating the siege on an annual basis. Closing with a musket firing, this event kicks off the almost two weeks of special programs designed to immerse visitors in moments leading up to the historic battle and humanize the people involved in this important story..

In addition to the Opening Ceremony, the Alamo will host living history demonstrations of the Mexican Army interpretation all day from 9 a.m. to 4 p.m. This is a unique opportunity to gain a deeper understanding and appreciation of this historic battle.
Admission to the opening ceremony and living history demonstrations is free and open to the public. We invite all history enthusiasts, families, and community members to join us in commemorating this important moment in Texas history.
For more information, please visit the Alamo website www.theAlamo.Org.
What: Commemoration Opening Ceremony
Who: Public
When: Thursday, February 23, 9 a.m. - 4 p.m.; Main ceremony at 10 a.m.
Where: The Alamo
300 Alamo Plaza, San Antonio, TX 78205
About Alamo Trust, Inc. | Located in the heart of San Antonio, the Alamo stands as a Shrine to Texas Liberty. Alamo Trust, Inc., or the Alamo, tells the story of Texas Independence as part of its rich and diverse 300-year history to over 1.6 million visitors every year and is the #1 most visited destination in the State of Texas. In 1960, the Alamo was designated a United States National Historic Landmark, and in 2015, it became part of the Lone Star State's only UNESCO World Heritage Site. Witness living history, experience authentic artifacts, and explore an iconic landmark that shaped the country. Visit theAlamo.org.