Free Admission for Nurses in honor of National Nurses Day on May 6!
May 3, 2023
CONTACT
Emily Baucum, Alamo Trust, Inc.
ebaucum@thealamo.org
Mobile (210) 669-0282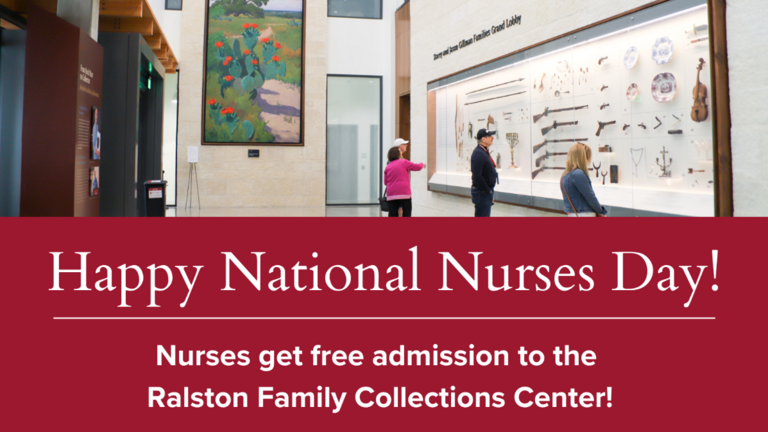 The Alamo is thrilled to offer free admission to the Ralston Family Collections Center to all nurses on Saturday, May 6, in honor of National Nurses Day.

It's our way of saying thank you to South Texas nurses for their long hours, helping hands and caring hearts. We appreciate their selfless dedication to our community.

The Ralston Family Collections Center opened in March 2023. The state-of-the-art facility showcases items from the Phil Collins Collection, the Donald and Louise Yena Spanish Colonial Collection, and the Alamo Collection. It is open daily from 9 a.m. to 5 p.m. with last entry at 4 p.m.

As a reminder, all First Responders get discounts on Alamo tours and experiences year-round.
What: National Nurses Day
Who: Public
When: Saturday, May 6, 2023; 9 a.m. to 5 p.m.
Where: The Alamo
300 Alamo Plaza, San Antonio, TX 78205
About Alamo Trust, Inc. | Located in the heart of San Antonio, the Alamo stands as a Shrine to Texas Liberty. Alamo Trust, Inc., or the Alamo, tells the story of Texas Independence as part of its rich and diverse 300-year history to over 1.6 million visitors every year and is the #1 most visited destination in the State of Texas. In 1960, the Alamo was designated a United States National Historic Landmark, and in 2015, it became part of the Lone Star State's only UNESCO World Heritage Site. Witness living history, experience authentic artifacts, and explore an iconic landmark that shaped the country. Visit theAlamo.org.