Alamo to Unveil the Naming of the Ralston Family Collections Center's Second Floor Gallery
October 4, 2023
CONTACT
Jonathan Huhn, Alamo Trust, Inc.
JHuhn@thealamo.org
Mobile (210) 867-7717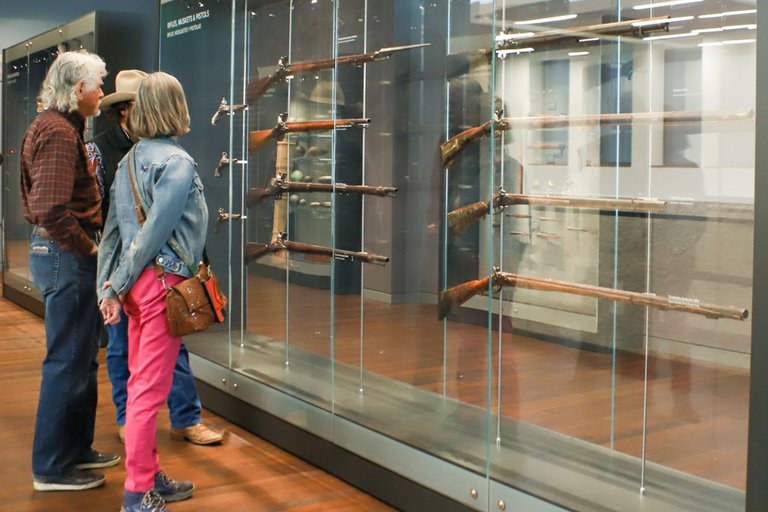 The Alamo is preparing to host a landmark event at the Ralston Family Collections Center to officially unveil the name of the Second Floor Gallery. This center, inaugurated on March 3, 2023, holds the distinction of being the first newly constructed building on the Alamo grounds in over seven decades, heralding a new chapter in the Alamo's 300-year history. This event also stands as a heartfelt acknowledgment of the IBC Foundation's generous $500,000 donation towards the Alamo Plan.
During this special occasion, the spotlight will be on the official unveiling of the Second Floor Gallery, dedicated in recognition of the IBC Foundation's commitment. Attendees will also hear from Dr. Kate Rogers, Executive Director of the Alamo Trust, Inc., and Mr. Dennis Nixon, Chairman of the Board, IBC Foundation.
Note to Press: Close vehicular parking for media will be coordinated. Please reach out to Jonathan Huhn at JHuhn@TheAlamo.org or 210-867-7717 to arrange parking for ease of entry.
What: Unveiling the Name of the Second Floor Gallern
Who: Press and Invited Guests
When: Thursday, October 12, 2023, 1:15 p.m. to 2:15 p.m.
Where: The Alamo - Ralston Family Collections Center
300 Alamo Plaza, San Antonio, TX 78205
About Alamo Trust, Inc. | Alamo Trust, Inc. (ATI) is a 501c3 nonprofit organization that oversees the daily operations at the Alamo and implementation of the Alamo Plan. Located in the heart of San Antonio, the Alamo stands as a Shrine to Texas Liberty. The Alamo tells the story of Texas Independence as part of its rich and diverse 300-year history to over 1.6 million visitors every year and is the #1 most visited destination in the State of Texas. In 1960, the Alamo was designated a United States National Historic Landmark, and in 2015, it became part of the Lone Star State's only UNESCO World Heritage Site. Witness living history, experience authentic artifacts, and explore an iconic landmark that shaped the country. Visit theAlamo.org.