Unveiling Texas History: Media Day at the Alamo Collections Center
February 24, 2023
CONTACT
Jonathan Huhn, Alamo Trust, Inc.
jhuhn@thealamo.org
Office (210) 225-1391x6064
Mobile (210) 867-7717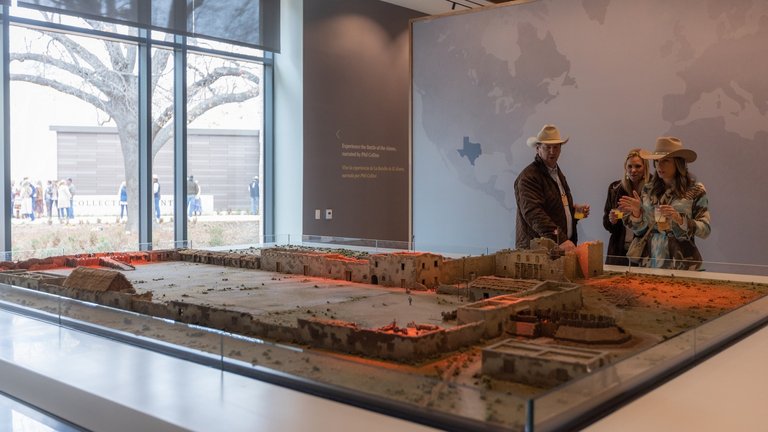 The Alamo Collections Center, the newest constructed building on the grounds of the Alamo since the 1950s, is set to open its doors to the public on March 3, 2023, at noon. Before the grand opening, media representatives will have the opportunity to explore the state-of-the-art facility during a media day event on Tuesday, February 28th, 2023, at 10am.
The Alamo Collections Center marks a turning point for the iconic site as it will provide 10,000 square feet of exhibition space, expanding the current galleries by fivefold. In addition, the new building will house state-of-the-art storage and conservation space for the Alamo Collection, ensuring proper care of objects over the long term.
Designed by Gensler | GRG and constructed by Clark/Guido, the two-story building is located behind the Alamo Church, beyond the historic footprint. The Alamo Collections Center will showcase items from the Phil Collins Collection, the Donald and Louise Yena Spanish Colonial Collection, and the Alamo Collection until they can be shown in the new Visitor Center and Museum, which is anticipated to open in 2026.
The Alamo Collections Center media day event will include a tour of the building and a Q&A session with Alamo Trust representatives.
Media representatives interested in attending the media day event on February 28th, 2023, are asked to RSVP to jhuhn@thealamo.org.
What: Alamo Collections Center - Media Day
Who: Press
When: Tuesday, February 28; 10 a.m. to 11 a.m.
Where: Alamo Collections Center (behind Alamo Church)
300 Alamo Plaza, San Antonio, TX 78205
About Alamo Trust, Inc. | Located in the heart of San Antonio, the Alamo stands as a Shrine to Texas Liberty. Alamo Trust, Inc., or the Alamo, tells the story of Texas Independence as part of its rich and diverse 300-year history to over 1.6 million visitors every year and is the #1 most visited destination in the State of Texas. In 1960, the Alamo was designated a United States National Historic Landmark, and in 2015, it became part of the Lone Star State's only UNESCO World Heritage Site. Witness living history, experience authentic artifacts, and explore an iconic landmark that shaped the country. Visit theAlamo.org.