Delight in the Magic of the Holiday Season at Alamo Lights!
November 17, 2023
CONTACT
Emily Baucum, Alamo Trust, Inc.
ebaucum@thealamo.org
Mobile (210) 669-0282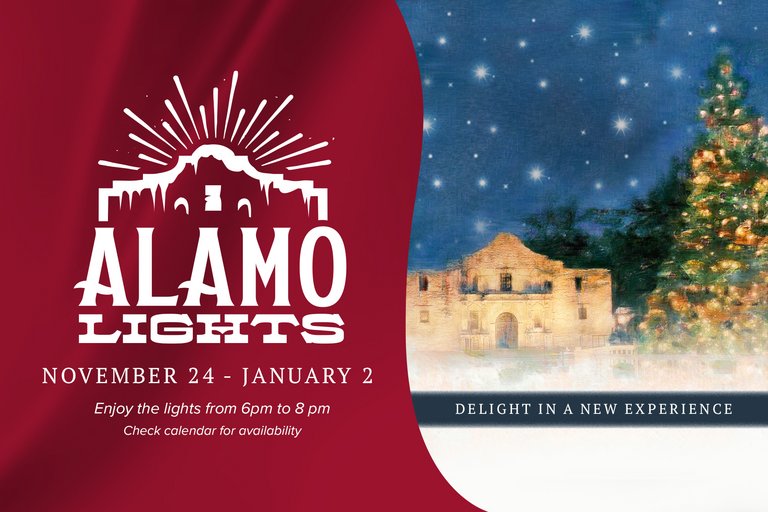 The Alamo invites you to kick off the holiday season at the opening night of Alamo Lights, a dazzling after-hours experience that will delight visitors of all ages!

Starting Friday, November 24, from 6 p.m. to 8 p.m., the beautiful Alamo grounds will be decorated with festive lights that illuminate the gardens. The majestic trees will be wrapped with breathtaking lights while larger-than-life light-decorated figures of Alamo Defenders watch over the historic site.
As a special opening night treat, singers from Opera San Antonio will perform starting at 6:15 p.m. Additionally, members of the Alamo's Living History team will be on hand to showcase traditional games from the 1800's.

Alamo Lights will continue on select nights throughout the holiday season. Visitors can reserve tickets online to ensure the best choice of dates. Tickets cost $5 for adults and $4 for children ages 12 and under. Discounts are available for Friends of the Alamo members as well as active-duty service members.

As part of Alamo Lights, we invite Alamo enthusiasts across Texas and around the world to honor or remember a loved one with a luminaria at the Alamo. Luminarias will be displayed around the green lawn in front of the Alamo Church during our Lights of Tribute event from Friday, December 15, through Sunday, December 17.

Luminarias can be purchased online with a donation of $10 or more to the Remember the Alamo Foundation. All tributes that are ordered on or before December 14 will be listed on our Tributes page. Lights of Tribute can be viewed in person or online via the Alamo Plaza Live Cam.

Come revel in the magical joy of the holidays at the Alamo!
What: Alamo Lights Opening Night
Who: Public
When: Friday, November 24, 2023, 6 p.m. to 8 p.m.
Where: The Alamo
300 Alamo Plaza, San Antonio, TX 78205
About Alamo Trust, Inc. | Alamo Trust, Inc. (ATI) is a 501c3 nonprofit organization that oversees the daily operations at the Alamo and implementation of the Alamo Plan. Located in the heart of San Antonio, the Alamo stands as a Shrine to Texas Liberty. The Alamo tells the story of Texas Independence as part of its rich and diverse 300-year history to over 1.6 million visitors every year and is the #1 most visited destination in the State of Texas. In 1960, the Alamo was designated a United States National Historic Landmark, and in 2015, it became part of the Lone Star State's only UNESCO World Heritage Site. Witness living history, experience authentic artifacts, and explore an iconic landmark that shaped the country. Visit theAlamo.org.