Free Admission Night at the Alamo Exhibit in Honor of David Crockett's Birthday
August 10, 2023
CONTACT
Jonathan Huhn, Alamo Trust, Inc.
JHuhn@thealamo.org
Mobile (210) 867-7717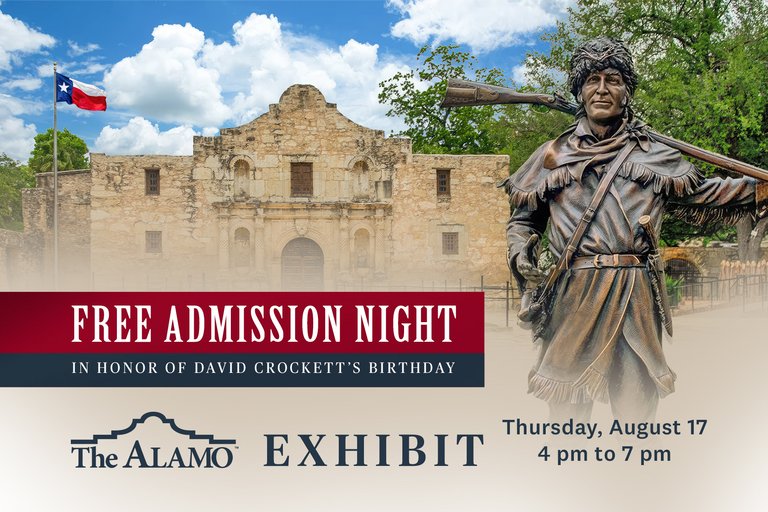 In honor of iconic Alamo Defender David Crockett's birthday, the Alamo is excited to offer extended hours Thursday, August 17, with free admission to the new Alamo Exhibit from 4 p.m. to 7 p.m.

The Alamo Exhibit inside the Ralston Family Collections Center features more than 500 artifacts, many on display for the first time. Visitors can explore the Phil Collins Collection and the Donald and Louise Yena Spanish Colonial Collection, as well as artifacts from the Alamo Collection.

The Alamo Church, Long Barrack, and Alamo Grounds will also remain open for guests to explore after hours.

David Crockett was born on August 17, 1786, in Tennessee. Known as the Lion of the West, his heroic last stand at the Alamo has inspired countless history lovers from around the world to discover the unique history of the Texas Revolution and the Battle of the Alamo.

Join us for a memorable after-hours experience as we honor a true Texas hero!
What: Alamo Exhibit Free Admission Night
Who: Public
When: Thursday, August 17, 2023, 4 p.m. to 7 p.m.
Where: The Alamo
300 Alamo Plaza, San Antonio, TX 78205
About Alamo Trust, Inc. | Alamo Trust, Inc. (ATI) is a 501c3 nonprofit organization that oversees the daily operations at the Alamo and implementation of the Alamo Plan. Located in the heart of San Antonio, the Alamo stands as a Shrine to Texas Liberty. The Alamo tells the story of Texas Independence as part of its rich and diverse 300-year history to over 1.6 million visitors every year and is the #1 most visited destination in the State of Texas. In 1960, the Alamo was designated a United States National Historic Landmark, and in 2015, it became part of the Lone Star State's only UNESCO World Heritage Site. Witness living history, experience authentic artifacts, and explore an iconic landmark that shaped the country. Visit theAlamo.org.