Honoring the Anniversary of the Battle of the Alamo
February 15, 2021
Contact: Kevin Femmel
Alamo Trust, Inc.
kfemmel@thealamo.org
Office (210) 225-1391x3005
Mobile (210) 836-8616
From February 23 through March 6, "Battle of the Alamo Commemoration" will honor the anniversary of the 13-day 1836 siege and Battle of the Alamo with special tours and events at the historic Alamo site. These events bring the Alamo's unique story to life, inspire visitors, and honor all those who lived, fought, and died for Texas' independence. Visitors will learn about the Texas Revolution and most of all, why we remember the Alamo 185 years later.

An annual event, "Battle of the Alamo Commemoration" has been adapted this year to offer a variety of virtual content that may be experienced without leaving your home. Many of these events, both in-person and online, will be free to the public. With gratitude and appreciation, the Alamo thanks Commemoration sponsors Grunt Style, Wave Healthcare, Bolner's Fiesta Products, C.H. Guenter & Son, and Dykema.

New this year is the first ever "Battle of the Alamo Commemoration" online silent auction - the newest way to support the Remember the Alamo Foundation. Bidding opens at 9:00 a.m. (CST) on Tuesday, February 23 and closes at 9:00 p.m. (CST) on Tuesday, March 8. This auction features unique Alamo and San Antonio experiences. All funds raised from the silent auction will benefit the Remember the Alamo Foundation. The Alamo thanks bidders and our auction item donors for your support, which ensures that future generations will Remember the Alamo!

A selection of virtual and in-person programming is included below. All events on the Alamo grounds will follow state and local COVID guidelines, with capacity limits and mask wearing enforced. Social distancing is strongly encouraged. Should state or local guidelines change, these in-person programs may be changed to online events.


Tuesday, February 23
Online + In-person, 9 a.m. - 4:30 p.m.
La Gran Marcha Del Ejercito Mexicano | Free
Witness the arrival of the Mexican Army in this virtual recreation online. In-person programming will feature Mexican Army interpretation for onsite visitors.

Wednesday, February 24
Online
Never Surrender or Retreat | Free
Answer Col. Travis' impassioned call for reinforcements with this virtual reading and recreation of the Travis Letter.

Wednesday, February 24
Online, 8 a.m. - 11:30 a.m.
School Day Virtual Events | Free
Students of all ages are invited to experience Alamo history during Battle of the Alamo Commemoration. School Day will feature multiple virtual events via Zoom that morning. Register here.

Saturday, February 27
Virtual, 10 a.m.
Tejanos of the Texas Revolution | Free
This event will feature a presentation on the Tejanos involved with the Battle of the Alamo. Panelists include representatives from Texas State University, Incarnate Word University, St. Mary's University, the Bexar County Clerk's Office, and the Alamo.

Saturday, February 27
Virtual, 1:30 p.m.
Virtual Guided Tour - En Espanol | $20
The Alamo presents an all Spanish version of our guided tour "A Story Bigger Than Texas." In this virtual tour, viewers will learn about the site's history from an Alamo Tour Guide, where viewers can ask questions and engage with our history experts in real-time. Register here.

Saturday, February 27
In-person, 3 p.m. - 9 p.m.
Texas Fest | Free
With Commemoration title sponsor Grunt Style, this event celebrates Texas and veteran-owned businesses. There will be live music, and the world-premiere of the 200th episode of the Texas Bucket List in the Alamo gardens.

Monday, March 1
Online
The Immortal 32 Arrive | Free
We honor the sacrifice of the 32 men from Gonzales, the only reinforcements the Alamo Defenders would receive, with one-of-a-kind virtual event.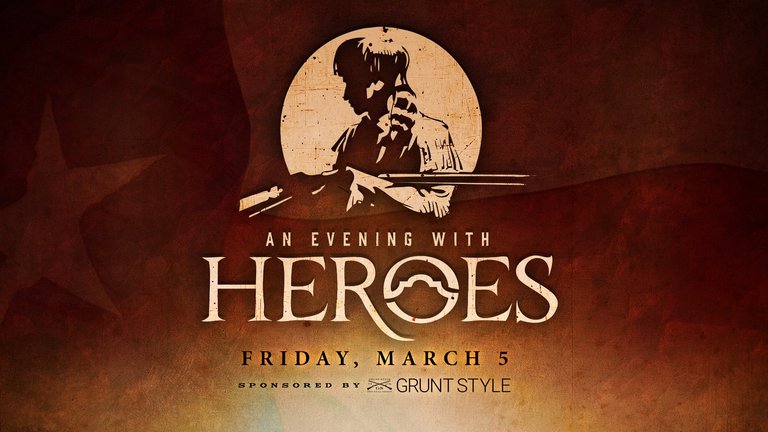 Friday, March 5
Virtual + In-person, 6 p.m. - 9:15 p.m.
An Evening with Heroes | Tickets required
"An Evening with Heroes" is a after-hours theater tour that brings history to life to show visitors what it would have been like at the Alamo just before the battle.

Saturday, March 6
In-person, 6 a.m.
Dawn at the Alamo | Free
This somber ceremony honors the sacrifice of the Alamo defenders at dawn.
About Alamo Trust, Inc. | Located in the heart of San Antonio, the Alamo serves as a sacred memorial to all those who lived, fought and died there. Visitors pay homage to the heroes of the 1836 Battle of the Alamo, a defining moment in Texas History. Alamo Trust, Inc., or the Alamo, tells that story of Texas independence, as part of its 300-year history to over 1.6 million visitors every year. To visit the Alamo is to witness living history, experience authentic artifacts and admire an iconic landmark that shaped the country. Visit thealamo.org.
---