Celebrate the Legacy of Toribio Losoya at The Alamo
April 12, 2023
CONTACT
Jonathan Huhn, Alamo Trust, Inc.
jhuhn@thealamo.org
Office (210) 225-1391x6064
Mobile (210) 867-7717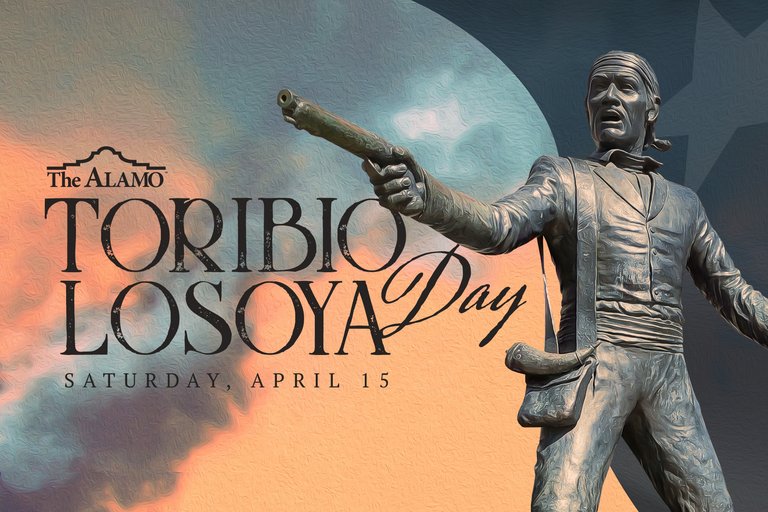 The Alamo, in partnership defender descendants, Casa Navarro State Historic Site, UTSA's Center for Archaeological Research, the Daughters of the Republic of Texas, and the Bexar County Heritage Center, invites you to join us for a special event on Saturday, April 15th, 2023, as we honor the birthday of Tejano hero Toribio Losoya.
Born on land belonging to Mission Valero de San Antonio, Toribio Losoya was destined to fight for a free Texas. He made his last stand at the Battle of the Alamo in 1836, where he fought valiantly alongside other defenders of the Shrine of Texas Liberty.

On the 2nd annual Toribio Losoya Day, we will celebrate his bravery and honor his contribution to the Texas Revolution. Losoya's descendants will lay 27 roses in his memory - one for each year of his life - at a 10 a.m. tribute.
This free event is appropriate for all ages. It will feature an exciting history program with interactive educational stations and hands-on Casa Navarro State Historic staff demonstrations.
Come to the Alamo and learn about one of San Antonio's most revered heroes. Discover Toribio Losoya's story, impact on Texas history, and sacrifice for freedom.
We look forward to seeing you at the Toribio Losoya Day celebration!
What: 2nd Annual Toribio Losoya Day
Who: Public
When: Saturday, April 15; 10 a.m. - 2 p.m. - Tribute to Toribio Losoya beginning at 10 a.m.
Where: The Alamo - Tribute will take place at Southwest corner of Alamo Plaza
300 Alamo Plaza, San Antonio, TX 78205
About Alamo Trust, Inc. | Located in the heart of San Antonio, the Alamo stands as a Shrine to Texas Liberty. Alamo Trust, Inc., or the Alamo, tells the story of Texas Independence as part of its rich and diverse 300-year history to over 1.6 million visitors every year and is the #1 most visited destination in the State of Texas. In 1960, the Alamo was designated a United States National Historic Landmark, and in 2015, it became part of the Lone Star State's only UNESCO World Heritage Site. Witness living history, experience authentic artifacts, and explore an iconic landmark that shaped the country. Visit theAlamo.org.