Celebrate Tejanos at the Alamo During National Hispanic Heritage Month
September 9, 2022
CONTACT
Jonathan Huhn, Alamo Trust, Inc.
jhuhn@thealamo.org
Office (210) 225-1391x6064
Mobile (210) 867-7717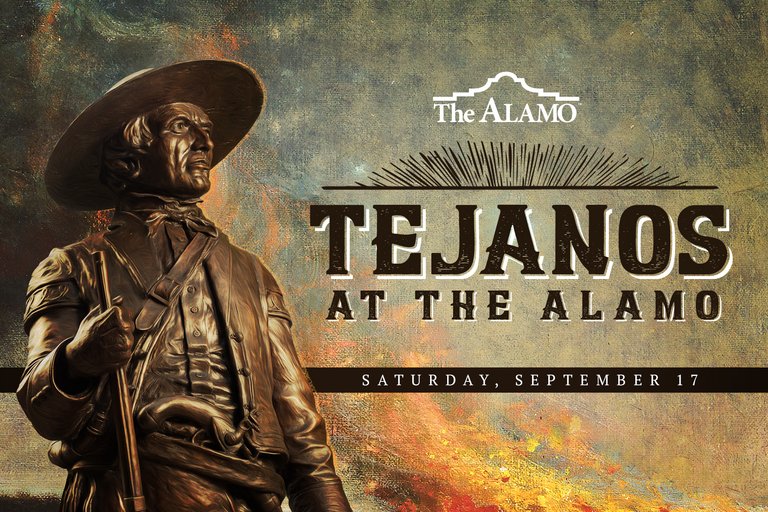 On September 17, the Alamo will celebrate National Hispanic Heritage Month with Tejanos At The Alamo, a gathering honoring Tejanos connected with the site's history. Come to the Shrine of Texas Liberty to learn more about these early settlers, 1836 Alamo Defenders such as Toribio Losoya, and other notable figures such as Juan Seguin, Adina De Zavala, and more. During the event, you will hear about how these important Tejano figures in San Antonio's history significantly impacted the community through living history demonstrations, live performances, and descendant associations.

Palenque Group, owners of Taco Palenque and Palenque Grill at La Cantera, are generously donating lunch for our hard-working event volunteers. We are so thankful for their support!

Join us for this free, family-friendly event celebrating the life and legacy of Tejanos At The Alamo.
What: Tejanos At The Alamo
Who: Public
When: Saturday, September 17; 9 a.m. to 4 p.m.
Where: The Alamo
300 Alamo Plaza, San Antonio, TX 78205
About Alamo Trust, Inc. | Located in the heart of San Antonio, the Alamo serves as a sacred memorial to all those who lived, fought and died there. Visitors pay homage to the heroes of the 1836 Battle of the Alamo, a defining moment in Texas History. Alamo Trust, Inc., or the Alamo, tells that story of Texas independence, as part of its 300-year history to over 1.6 million visitors every year. To visit the Alamo is to witness living history, experience authentic artifacts and admire an iconic landmark that shaped the country. Visit theAlamo.org.