Celebrate David Crockett's Birthday at The Alamo August 20th
August 8, 2022
CONTACT
Jonathan Huhn, Alamo Trust, Inc.
jhuhn@thealamo.org
Office (210) 225-1391x6064
Mobile (210) 867-7717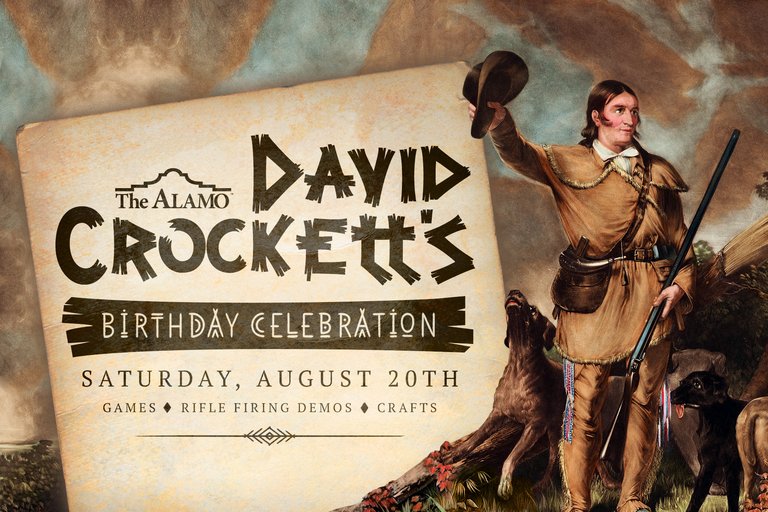 Come to the Alamo on Saturday, August 20, to celebrate the birthday of the legendary frontiersman, three-term congressman, and iconic Alamo Defender, David Crockett!

The Lion of the West has inspired an immeasurable amount of individuals from around the world to discover the unique history of the Texas Revolution and the Battle of the Alamo. Learn more about the famous Tennessean who made his last stand at the Alamo through exciting living history programming, crafts, games, and firing demonstrations.

Join us for this free, family-friendly event celebrating the life of American Folk hero, David Crockett!
What: David Crockett's Birthday Celebration
Who: Public
When: Saturday, August 20; 9 a.m. to 2:30 p.m.
Where: The Alamo
300 Alamo Plaza, San Antonio, TX 78205
About Alamo Trust, Inc. | Located in the heart of San Antonio, the Alamo serves as a sacred memorial to all those who lived, fought and died there. Visitors pay homage to the heroes of the 1836 Battle of the Alamo, a defining moment in Texas History. Alamo Trust, Inc., or the Alamo, tells that story of Texas independence, as part of its 300-year history to over 1.6 million visitors every year. To visit the Alamo is to witness living history, experience authentic artifacts and admire an iconic landmark that shaped the country. Visit theAlamo.org.