Celebrate the Holidays at Alamo Lights
November 21, 2022
CONTACT
Jonathan Huhn, Alamo Trust, Inc.
jhuhn@thealamo.org
Office (210) 225-1391x6064
Mobile (210) 867-7717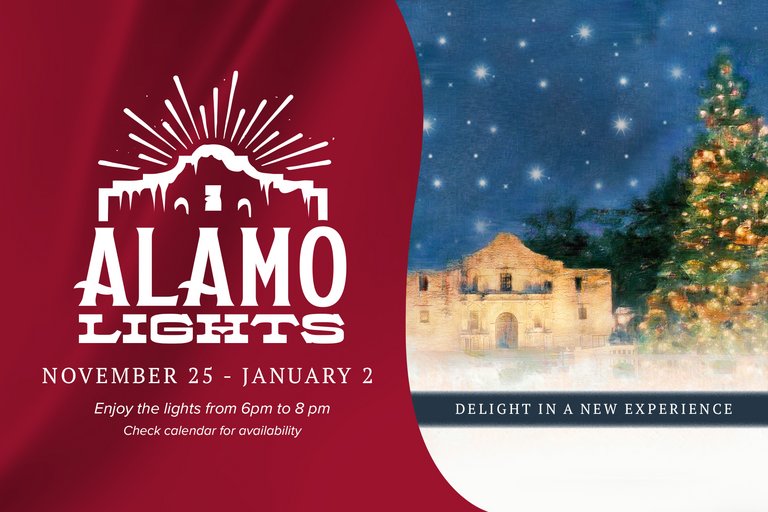 Celebrate the holidays at the Shrine of Texas Liberty with Alamo Lights! Join us after hours at the Alamo to experience the iconic site decorated for the holiday season – from the traditional Christmas tree on the Plaza to festive lights illuminating the gardens.

In addition to the site's majestic trees wrapped with breathtaking lights, the Alamo gardens will feature the larger-than-life light-decorated figures of Alamo Defenders and a few other surprises!

On Opening Night, November 25, as well as December 10 and December 17, this special after-hours experience will also include live performances, presentations from local artists, and holiday food and drinks.

This year's Alamo Lights are possible because of generous sponsorships from CPS Energy, Edouard Foundation, and Silver Eagle Beverages.

Reserve your tickets in advance to ensure the best choice of dates. Tickets are available at a discount for Friends of the Alamo members. Not a member? Join today!
About Alamo Trust, Inc. | Located in the heart of San Antonio, the Alamo stands as a Shrine to Texas Liberty. Alamo Trust, Inc., or the Alamo, tells the story of Texas Independence as part of its rich and diverse 300-year history to over 1.6 million visitors every year and is the #1 most visited destination in the State of Texas. In 1960, the Alamo was designated a United States National Historic Landmark, and in 2015, it became part of the Lone Star State's only UNESCO World Heritage Site. Witness living history, experience authentic artifacts, and explore an iconic landmark that shaped the country. Visit theAlamo.org.