Meet a Camel and Discover the Remarkable History of the Camel Corps at the Alamo
July 14, 2023
CONTACT
Emily Baucum, Alamo Trust, Inc.
ebaucum@thealamo.org
Mobile (210) 669-0282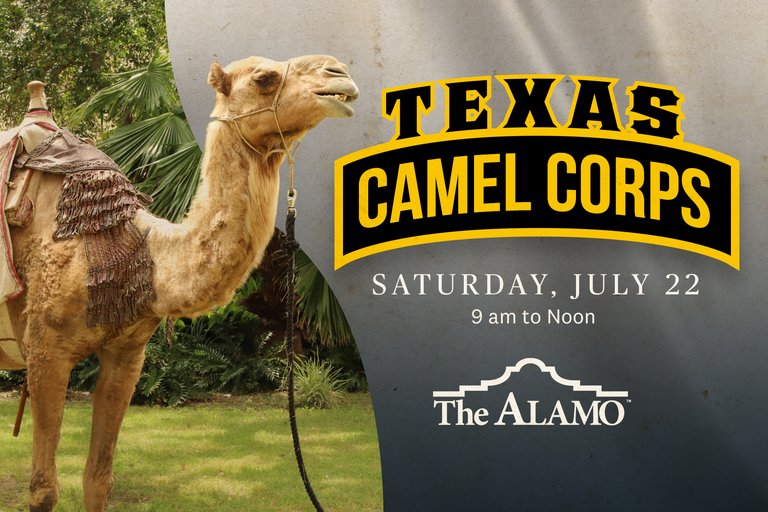 For one unforgettable summer morning, camels will walk the Alamo grounds as guests are invited to learn about their remarkable historic connection to the Texas Hill Country and the Shrine of Texas Liberty.

The Texas Camel Corps will bring these majestic creatures to the Alamo Gardens on Saturday, July 22, from 9 a.m. to 12 p.m. and teach visitors why the United States Army turned to camels in the 1850s, including at the Alamo.

As the U.S. Army helped transport supplies across the country, camels had key advantages when compared to horses and mules, like traversing areas with severe heat while needing very little water. During this brief experiment, camels were used at the Alamo while it served as an Army Quartermaster Depot. The camels that worked at the Alamo were stationed at Camp Verde, more than 60 miles away in the Texas Hill Country.
The event is free and open to the public. Founded in 1997 by Doug Baum, the Texas Camel Corps visits sites with the goal of educating the public about the use of camels in the 19th century.
What: Texas Camel Corps Visit the Alamo
Who: Public
When: Saturday, July 22, 2023, 9 a.m. to Noon
Where: The Alamo - Alamo Gardens
300 Alamo Plaza, San Antonio, TX 78205
About Alamo Trust, Inc. | Alamo Trust, Inc. (ATI) is a 501c3 nonprofit organization that oversees the daily operations at the Alamo and implementation of the Alamo Plan. Located in the heart of San Antonio, the Alamo stands as a Shrine to Texas Liberty. The Alamo tells the story of Texas Independence as part of its rich and diverse 300-year history to over 1.6 million visitors every year and is the #1 most visited destination in the State of Texas. In 1960, the Alamo was designated a United States National Historic Landmark, and in 2015, it became part of the Lone Star State's only UNESCO World Heritage Site. Witness living history, experience authentic artifacts, and explore an iconic landmark that shaped the country. Visit theAlamo.org.