Alamo Sacristy Reopens with Striking New Exhibit
September 1, 2023
CONTACT
Jonathan Huhn, Alamo Trust, Inc.
JHuhn@thealamo.org
Mobile (210) 867-7717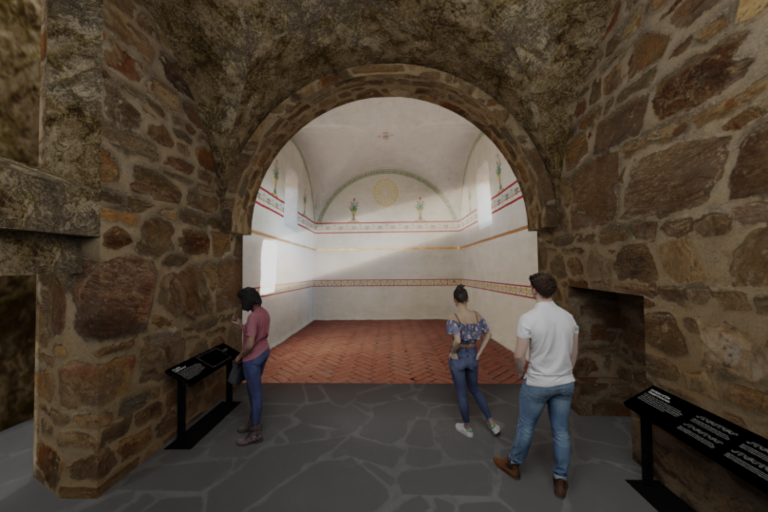 The Alamo is excited to announce a welcoming addition to the iconic Church that promises to transport visitors on an enchanting voyage through history. After an almost seven-year closure, the Alamo Sacristy is poised to welcome the public once again, starting on Wednesday, September 13th. We extend a warm invitation to be part of this remarkable milestone as we reveal the captivating new Alamo Sacristy Exhibit—a work of art that breathes life into the enthralling history and natural splendor of the Sacristy.

Nestled within the revered walls of the Alamo Church, the Sacristy has silently witnessed significant historical moments throughout its storied existence. From its construction and adornment during the Mission Era to its vital role as a sanctuary during the Battle of the Alamo, this space embodies untold stories of the past, eagerly waiting to be discovered.

The new Alamo Sacristy Exhibit is an immersive journey through time that unveils the Sacristy's remarkable evolution across centuries. Embark on an exploration of the artistry of frescoes of the Mission Era, delving into the techniques wielded by the artists who meticulously crafted these intricate masterpieces ages ago. Interpretive panels will illuminate the mechanics of this captivating art form, offering a deeper understanding of its nuances.

This immersive encounter also includes media projections and a harmonious soundscape, skillfully leading you through the Sacristy's evolution. As you traverse this narrative, unveil tales at your own pace through self-guided exploration using reader rails.

The Alamo Sacristy Exhibit, free to the public, thanks to the Nancy Smith Hurd Foundation, merges history and beauty seamlessly—a treasure within the Alamo's walls connecting its past to the present.

Admission to the new Alamo Sacristy Exhibit is complimentary, but guests are required to secure timed-ticket reservations for entry.
What: Alamo Sacristy Exhibit
Who: Public
When: Wednesday, September 13, 2023, 9 a.m.
Where: The Alamo Church
300 Alamo Plaza, San Antonio, TX 78205
About Alamo Trust, Inc. | Alamo Trust, Inc. (ATI) is a 501c3 nonprofit organization that oversees the daily operations at the Alamo and implementation of the Alamo Plan. Located in the heart of San Antonio, the Alamo stands as a Shrine to Texas Liberty. The Alamo tells the story of Texas Independence as part of its rich and diverse 300-year history to over 1.6 million visitors every year and is the #1 most visited destination in the State of Texas. In 1960, the Alamo was designated a United States National Historic Landmark, and in 2015, it became part of the Lone Star State's only UNESCO World Heritage Site. Witness living history, experience authentic artifacts, and explore an iconic landmark that shaped the country. Visit theAlamo.org.