Alamo Palisade Exhibit Grand Opening on December 17
December 10, 2021
CONTACT
Kevin Femmel, Alamo Trust, Inc.
kfemmel@thealamo.org
Office (210) 225-1391x3005
Mobile (210) 836-8616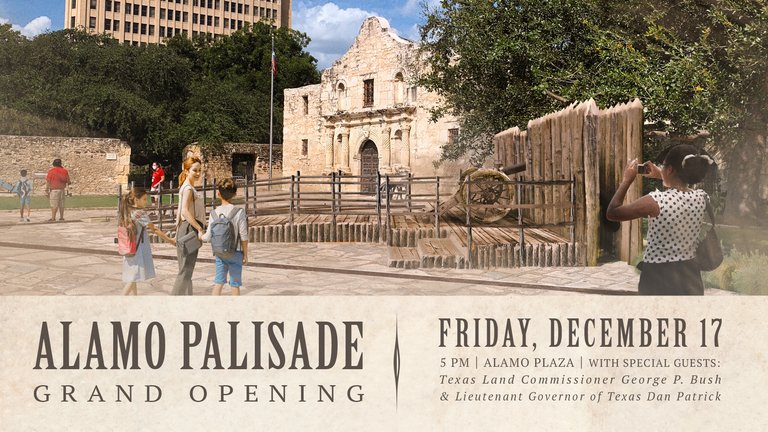 The Palisade Exhibit, a new experience that brings one of the key locations of the 1836 Battle of the Alamo to life, will be unveiled on December 17. An unveiling ceremony will take place that evening with KSAT12 news anchor Myra Arthur as the emcee and guest speakers Texas Land Commissioner George P. Bush and Lieutenant Governor Dan Patrick.

The exhibit is a partial reconstruction of a fence-like fortification used during the 1836 Battle of the Alamo. Located approximately where it was during the battle, it is believed that David Crockett fought at the Palisade. It will also feature a four-pounder bronze cannon replica.

The Palisade joins the Alamo's 18-Pounder Losoya House as the second recreated portion of the fort during the battle. These two exhibits help give visitors a greater understanding of where the fighting took place, in what is Alamo Plaza today.

After the ceremony visitors can enjoy the Alamo Lights Holiday Fair from 6 p.m. until 8 p.m. Stroll through the lit gardens and enjoy holiday music, shopping, crafts, special treats, activities, and some surprise guests. The Alamo will also have on display a special 19th-century violin on loan from the Witte Museum starting December 17 through January 3. Admission into the annex gallery to see this artifact will be free on December 17.

The press and the public are encouraged to attend the unveiling ceremony. The Palisade Exhibit will be free to experience for all visitors during normal operating hours.
What: "Palisade Exhibit Unveiling Ceremony," the newest Alamo exhibit will be unveiled in Alamo Plaza.
Who: Press and Public
When: Friday, December 17, 5 p.m. Unveiling Ceremony; 6 p.m. - 8 p.m. Alamo Lights Holiday Fair.
Where: The Alamo
300 Alamo Plaza, San Antonio, TX 78205
About Alamo Trust, Inc. | Located in the heart of San Antonio, the Alamo serves as a sacred memorial to all those who lived, fought and died there. Visitors pay homage to the heroes of the 1836 Battle of the Alamo, a defining moment in Texas History. Alamo Trust, Inc., or the Alamo, tells that story of Texas independence, as part of its 300-year history to over 1.6 million visitors every year. To visit the Alamo is to witness living history, experience authentic artifacts and admire an iconic landmark that shaped the country. Visit theAlamo.org.