The Alamo Breaks Ground on New Exhibition Hall & Collections Building
August 17, 2021
CONTACT
Kevin Femmel, Alamo Trust, Inc.
kfemmel@thealamo.org
Office (210) 225-1391x3005
Mobile (210) 836-8616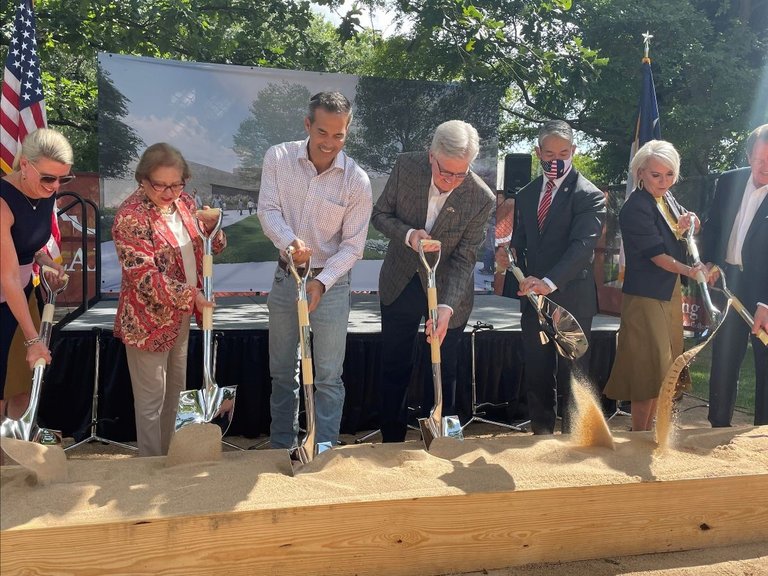 Today, the Alamo broke ground on the Exhibition Hall & Collections Building. The first new building created as part of the Alamo Plan, official construction will begin on September 1st.

A groundbreaking ceremony was held earlier today, which was emceed by esteemed San Antonio reporter Sarah Lucero, and featured speakers such as Lieutenant Governor Dan Patrick, Texas General Land Commissioner George P. Bush, San Antonio Mayor Ron Nirenberg, and Bexar County Precinct 3 Commissioner Trish DeBerry.

"The defenders of the Alamo laid down their lives for Texas, and 185 years later, it is vital that future generations learn about the sacrifices of Bowie, Crockett, Travis, and the countless other defenders. The first place I visited when I came to Texas in 1979 was the Alamo. Like millions of people everywhere, the story means so much to me," said Lt. Governor Dan Patrick. "The first thing I did when I was elected was create an Alamo room at the Capitol. I never dreamed that one day, I would be honored to be a part of the design and building on this hallowed ground. The Exhibition Hall and Collections Building is the next step in our design, which is scheduled to be completed in 2025. As Lt. Governor, I will never stop fighting to preserve and protect the Alamo."

"The Alamo is single-handedly the most important symbol of freedom and independence across the nation," said Land Commissioner George P. Bush. "185 years ago, the Defenders drew a line in the sand and declared liberty or death, a spirit that continues to shape Texas' principles each and every day. It is critical that our children and grandchildren are taught these ideals, values that come to life as they step onto the hallowed grounds of the Alamo. I am excited for this new Collections Building to usher in a new era of educational opportunity for visitors to our sacred shrine."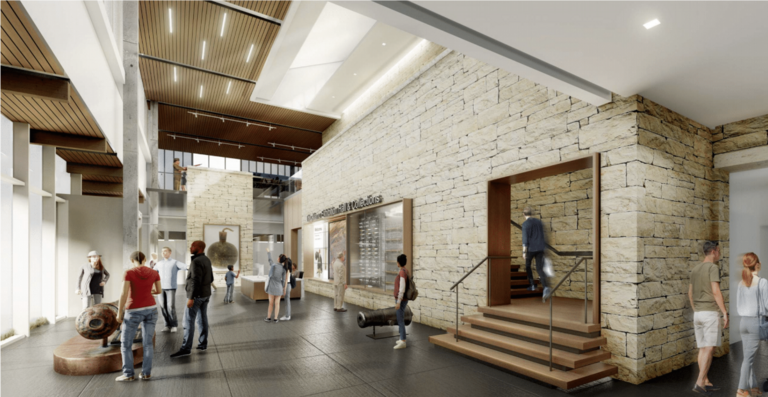 Scheduled to open in late 2022, the Exhibition Hall & Collections Building will use state-of-the-art storage facilities to add much needed conservation space for the long-term care of the artifacts in Alamo's possession. The Alamo has over 2,400 items in its possession, but only enough space to display just 1% of these items. The 24,000 square foot, two-story building will also give the site 10,000 square feet of new gallery space for exhibits—five times the space that the Alamo has today.

Designed by Gensler| GRG, the two-story building will be located behind the Alamo Gift Shop, off the historic mission footprint, on grounds that were not developed until the early 1900s. Sensors will be installed nearby to monitor all vibrations in the ground to ensure that the site's historic structures do not experience any effects of the construction. This is the same process that the Alamo used successfully to install security bollards around the perimeter of Alamo Plaza in 2019.

When the Alamo Visitor Center and Museum opens in 2025, the Exhibition Hall & Collections Building will ultimately provide space for traveling exhibitions and other educational resources.

For more information on the groundbreaking ceremony, renderings of the Exhibition Hall & Collections Building, details on the Alamo Plan and the upcoming Visitor Center and Museum, please see the assets in this digital press kit. A full live stream of the ceremony can be viewed on the Official Alamo Facebook page.
About Alamo Trust, Inc. | Located in the heart of San Antonio, the Alamo serves as a sacred memorial to all those who lived, fought and died there. Visitors pay homage to the heroes of the 1836 Battle of the Alamo, a defining moment in Texas History. Alamo Trust, Inc., or the Alamo, tells that story of Texas independence, as part of its 300-year history to over 1.6 million visitors every year. To visit the Alamo is to witness living history, experience authentic artifacts and admire an iconic landmark that shaped the country. Visit thealamo.org.