The Alamo Launches Alamo Archaeology and Phil Collins Collection Preview: Supplies For War Exhibits on Texas Independence Day
February 28, 2022
CONTACT
Kevin Femmel, Alamo Trust, Inc.
kfemmel@thealamo.org
Office (210) 225-1391x3005
Mobile (210) 836-8616
Starting on March 2, two exciting exhibits will open in time for Texas Independence Day! A new preview of the Phil Collins Collection, which will be on display when the Exhibition Hall & Collections Building opens later this year, will include a selection of artifacts focusing on the types of supplies that were used during the Texas Revolution.

The Phil Collins Collection Preview: Supplies For War will be free for the public on opening day, March 2, and the exhibit will last until April 24. Admission will cost $5-$9 after March 2 and will remain free for all members of Friends of The Alamo.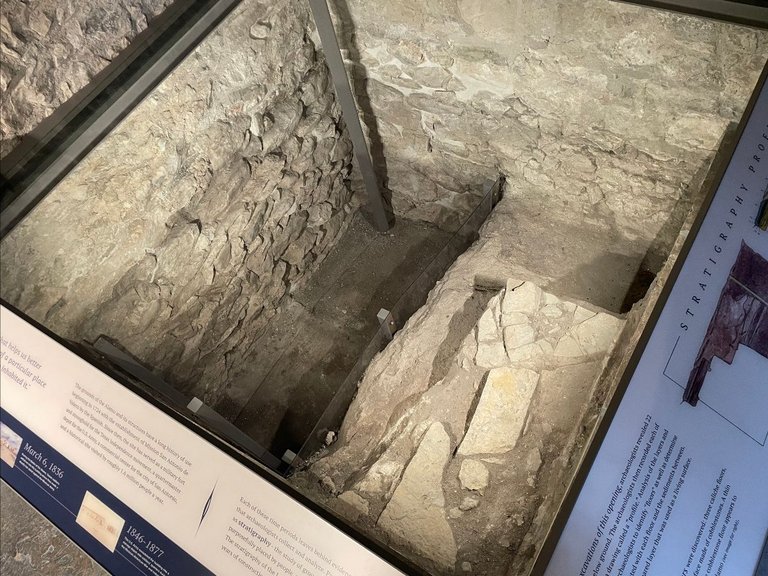 On the same day, the Alamo Archaeology exhibit will open inside the historic Long Barrack.

Visitors will get an in-depth look into an excavation unit in one of the oldest buildings in Texas, learn about some of the discoveries made during archaeological investigations, and the history of how the Long Barrack has been used since 1724. This is the third exhibit added to The Alamo grounds in the last 11 months, joining the outdoor Palisade and 18-Pounder exhibits as major additions to the visitor experience. The Alamo Archaeology exhibit is free for visitors and does not require a timed-entry ticket.

"The Phil Collins Preview is just a taste of what will be on display in the Exhibition Hall & Collections Buildings when it opens later this year," Kate Rogers said, Executive Director of The Alamo Trust, Inc. "With our plans for even more immersive exhibits, including an interpretation of the south gate in Alamo Plaza, a visit to The Alamo is quickly becoming a much deeper, narrative-rich experience that it has ever been before."

Like the rest of the site, these two exhibits will be open during normal operating hours.

Visitors on March 2nd can also enjoy a variety of activities for Texas Independence Day! From 9 a.m. to 4 p.m., The Alamo will host interactive living history demonstrations focused on Texas's time as an independent country and live music. At 12:30 p.m., the Alamo Mission Chapter of the Daughters of the Republic of Texas will host a special Texas Independence Day Ceremony with performances by the Alamo Heights High School Band and Drill Team.

All these amazing events are free for visitors on March 2nd in honor of Texas Independence Day.
About Alamo Trust, Inc. | Located in the heart of San Antonio, the Alamo serves as a sacred memorial to all those who lived, fought and died there. Visitors pay homage to the heroes of the 1836 Battle of the Alamo, a defining moment in Texas History. Alamo Trust, Inc., or the Alamo, tells that story of Texas independence, as part of its 300-year history to over 1.6 million visitors every year. To visit the Alamo is to witness living history, experience authentic artifacts and admire an iconic landmark that shaped the country. Visit theAlamo.org.