U.S. Air Force Day at the Alamo
April 19, 2023
CONTACT
Jonathan Huhn, Alamo Trust, Inc.
jhuhn@thealamo.org
Office (210) 225-1391x6064
Mobile (210) 867-7717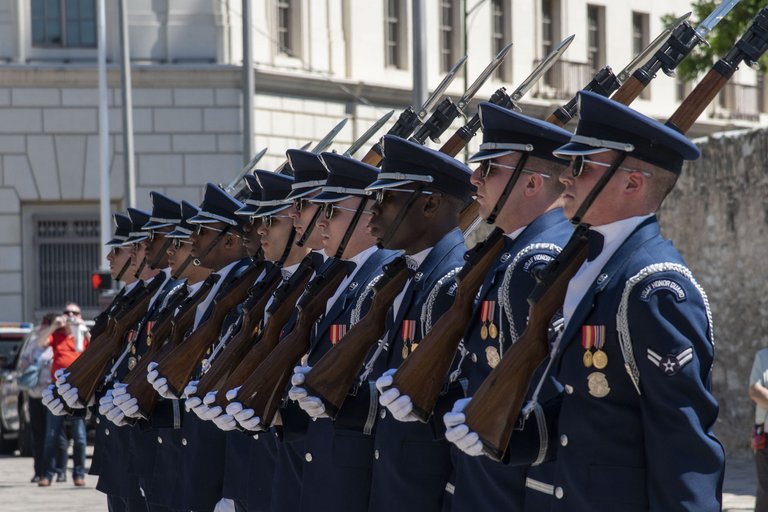 Come to The Alamo on April 24 for the United States Air Force Day.

The U.S. Air Force Day at the Alamo event is free and open to the public. The gathering will host demonstrations and performances by Joint Base San Antonio units, including Military Working Dogs Demo Team, Explosive Ordinance Detachment Demo Team, Lackland Drum & Bugle Corps, and the Nightwatch Woodwind Quintet of the United States Air Force Band of the West.

The gathering, held each year during Fiesta, commemorates the Air Force's longstanding partnership with the City of San Antonio. During Fiesta, it is tradition for military representatives throughout San Antonio to participate in receptions, parades, pilgrimages and memorials.
What: U.S. Air Force Day at the Alamo
Who: Public
When: Monday, April 24, 2023; 11 a.m. to 1 p.m.
Where: The Alamo
300 Alamo Plaza, San Antonio, TX 78205
About Alamo Trust, Inc. | Located in the heart of San Antonio, the Alamo stands as a Shrine to Texas Liberty. Alamo Trust, Inc., or the Alamo, tells the story of Texas Independence as part of its rich and diverse 300-year history to over 1.6 million visitors every year and is the #1 most visited destination in the State of Texas. In 1960, the Alamo was designated a United States National Historic Landmark, and in 2015, it became part of the Lone Star State's only UNESCO World Heritage Site. Witness living history, experience authentic artifacts, and explore an iconic landmark that shaped the country. Visit theAlamo.org.